Et voilà, après des ptites semaines passées à Melbourne, Tasmanie et Sydney, le roadtrip commence à Brisbane !!!
Brisbane est pour moi un petit Sydney sans les plages , sauf la plage artificielle... C'est une ptite ville sympa ... par contre pour dormir c'est l'horreur car quasiment tous les jeunes des auberges font la fête tous les jours .... Je n'y reste que deux jours car déjà fait lors du premier tour du monde...
After mu few weeks getting from a point to another in Melbourne, Tasmania and Sydney, the road trip finally starts in Brisbane !!!
Brisbane is for me a little Sydney without the beaches , apart from the artificial one...It's a nice town... But to sleep , it's a nightmare because of the young crowd in Brisbane partying every night... I just stayed 2 nights because I've been there once during the 1st world trip....
Direction Noosa où j'étais également passé il y a 5ans mais cette fois j'ai fait la marche autour de Nousa Head qui était pas mal avec de jolies couleurs, une longue plage et un lézard énorme ...
Then heading for Noosa, where I was as well 5 years ago but this time I did the hike around Noosa Head which was not bad with nice colors , huge beach and an enormous Lezard ...
Ensuite Rainbow Beach, point de départ pour les tours vers Fraser Island, que j'avais fait également il y a 5 ans.... Donc je n'y reste que 2jours histoire de me poser et voir le colored sand (sable coloré)... En fait, il y a un endroit ou on peut trouver du sable blanc, noir, jaune et un peu gris. Et toujours une plage sans fin ...
Then, driving to Rainbow Beach, starting point for a Fraser Island trip but already done 5 years ago.... So I decided to stay 2 days there to rest a bit and check out the colored sand which is a mix of white, yellow, black and a bit of grey sand and of course a huge beach ....
Ensuite pause à Hervey Beach mais pas grand chose à faire ...
Then a break in Hervey beach but not much to do there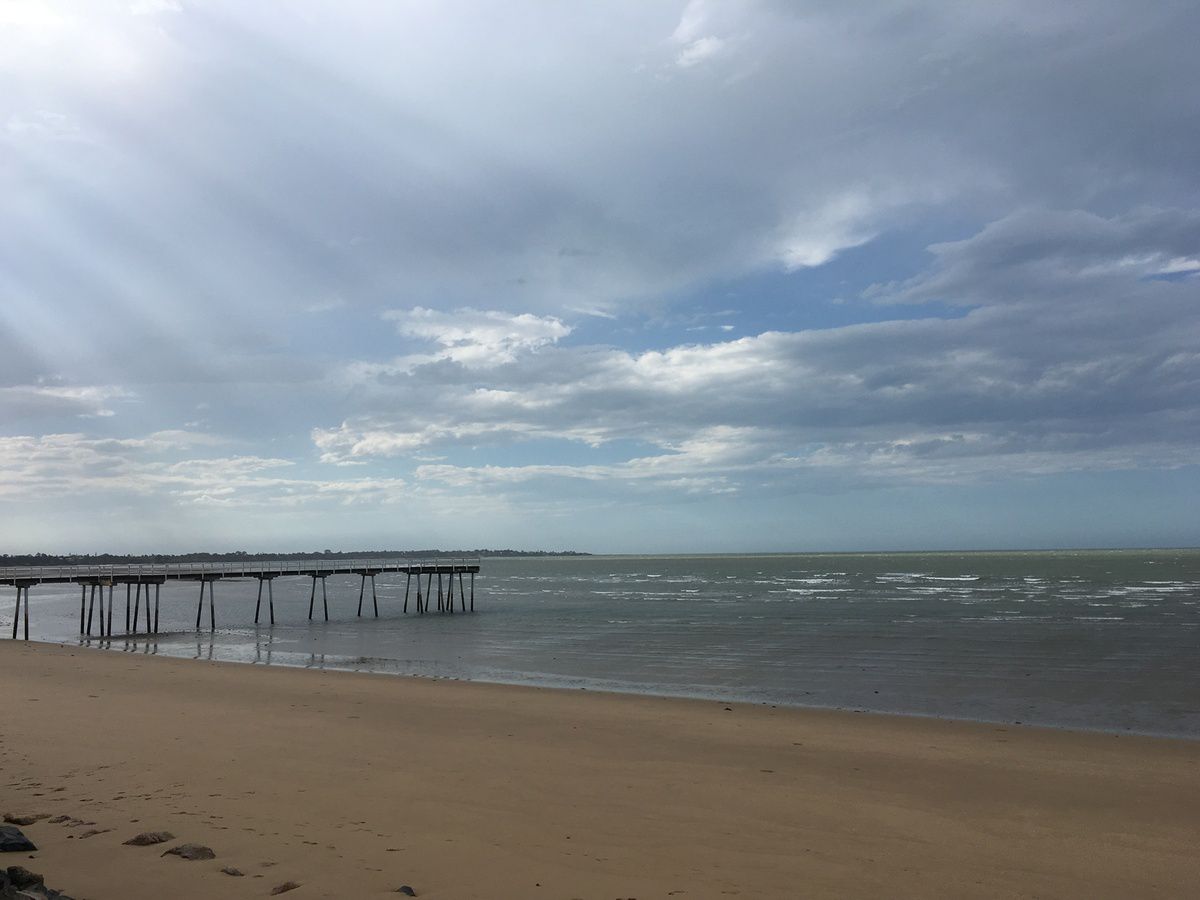 Sur la route pour aller à Agnès Water, je passe par la ville connu partout en Australie pour son Rhum : Bundaberg.
Donc ptite visite de la Distillerie et dégustation ensuite... Pas de photo car interdiction d'avoir des appareils avec batterie à cause des vapeurs d'alcool. Je doit avouer que le Rhum était pas mal !!!
Direction donc Agnès Water et Town of 1770. Agnès Water est la ville en Australie ou c'est le moins cher pour apprendre à surfer 17AU$ soit 13euros pour 3heures... mais pas pu surfer car pas de vague... je suis allé donc me balader à Town of 1770 où James Cook a posé le pied en 1770.
On my way to Agnes Water, I drive through the town known in the entire Australia for its Rum : Bundaberg.
So, a visit of the distillery must be done followed with a tasting.... No picture because it's forbidden to take your camera because of the alcool in the air... I must admit that it's a good Rum !!!
Then heading for Agnès Water and Town of 1770. Agnès Water is the town in Australia where it's the cheapest to learn how to surf 17AU$ , around 13 euros, for 3 hours... but no waves so I went to Town of 1770 for a walk and see where James Cook arrived in Australia in 1770.
Prochaine étape , Airlie Beach pour la croisière dans les Whitsundays et ensuite Ayr pour les plongées du Yongala (voir les articles correspondant)
Next stops : Airlie Beach for the Whitsundays Cruise and then going to Ayr for the Yongala Dives (check the previous articles)
Direction Port Douglas au Nord de Cairns afin d'aller visiter la Rain Forest de Daintree avec Cap Tribulation . Donc là c'est balade dans la forêt et sur les plages mais baignade interdite à cause des Crocodiles ( une personne à été mangée 3 semaines plus tôt)
Now heading for Port Douglas north of Cairns in order to visit the Daintree Rain Forest and Cape Tribulation. SO there, walks in the forest and on the beaches but can't swim there because of the Crocodiles (someone got eaten 3weeks earlier)
Dernière étape du Road Trip : Cairns et plongée sur la Grande Barrière de Corail (voir l'article correspondant)
Last stop of this Road Trip : Cairns and the Great Barrier Reef (check out the previous article)